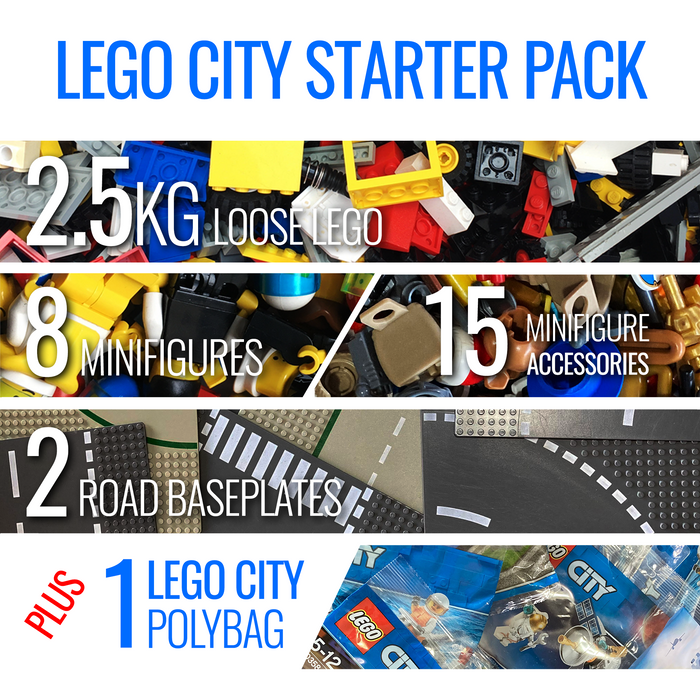 Loose LEGO® City Starter Pack
Sold out
Original price
£55.99
-
Original price
£55.99
Loose LEGO® City Starter Pack
Our city starter pack contains 2.5kg of random loose LEGO® as well as 8 random LEGO® minifigures, two LEGO® road baseplates AND one random LEGO® City polybag! This bundle will also include at least 15 random LEGO® minifigure accessories such as hats, helmets, tools, weapons, body wear and much more! 
This is a great pack to help get you started on building your own LEGO® City or to help add to an existing one!
If this isn't for you please feel free to check out some of our other loose LEGO® packages such as our booster pack or our MEGA pack!
(Road baseplate dimensions: L32 x W32 studs per baseplate - approx L25.6cm x W25.6cm)

**Please Note**
Although we quality assess all of the loose LEGO® we sell, some parts may have minor damages as they are used bricks. These damages can include scratches, marks and minor dents etc (regular wear and tear).
We always try to make sure you receive a good variety of parts including bricks, plates, tiles, wheels etc although the contents of each starter pack sold is completely random! 
If you have any questions regarding this product please contact us through our email: help@brickbin.co.uk